Mathias Hall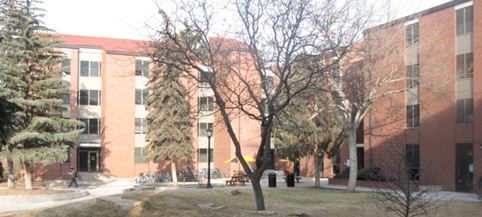 ---
Mathias Hall was named after Henry Edwin Mathias, a professor of geology and an administrator who served the college in many different offices from 1927-1966.
Mathias houses approximately 294 first and second year students. It is home to the Living Learning Community as well as other themed areas. Mathias was renovated in 2010 and has great facilities, such as a theater-style TV lounge, sound-proof music practice room, and an outside bicycle storage area.
The "Local Goods" convenience store and the basketball and sand volleyball courts right outside Mathias draw students from all over campus.
Flat-Screen TV, Study Booths

Theme: Global, Grassroots

Yes; P

ool Table,

Foosball Table

First-Year & Sophomores: 296




Heat Only


Yes; Additional Bike Shed

Exterior: Swipe Card;

Interior: Key

Classroom, Music Room, Theater Space,

Local Goods Convenience Store